CALL US NOW FOR A FREE ESTIMATE!
413-596-2222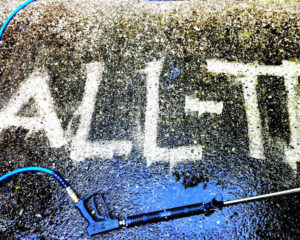 ALL-TERIOR PAINTING & POWERWASHING handles ALL UNIQUE SURFACES that require powerwashing from residential to commercial:
brick
concrete
stucco
all wood surfaces
aluminum/metal
vinyl/vinyl composite
We have the expertise to apply the correct application for the right surface to restore to like-new condition. We have invested in the best equipment and by bringing our own water we are able to provide fast, hassle-free service to our clients.
In addition, we provide emergency service for graffiti removal.
We use a non-damaging solution that effectively removes even the toughest grime and dirt without leaving any residue. This is all done while still protecting surrounding areas and landscaping.
Call us today so we can add your property to our list for scheduled visits to keep your investment looking pristine and well-maintained.
Residential Homes (vinyl, wood, aluminum)
Commercial Buildings/Mini Malls, etc
Truck scales/industrial fleet
Factory/plant exteriors
Machinery
Office exteriors
Walkways/Patios/Sidewalks
Pool patios
Front Steps
Decks/Railings
Fences
Outbuidings – barns, sheds, garages
Graffiti Removal
Parking Garages
Churches
Mobile Homes/Trailers
Condos
Awnings
Powerwashing can give an instant facelift to any property. It is by far the simplest, fastest, most affordable way to improve the entire appearance of your home to keep it looking clean and well-maintained. ALL-TERIOR PAINTING & POWERWASHING can remove mold and mildew and protect your exterior. This can significantly lengthen the life of your property.