CALL US NOW FOR A FREE ESTIMATE!
413-596-2222
From closets to full interiors, from front doors to full exteriors you will receive outstanding results by choosing ALL-TERIOR PAINTING!
Have you been putting off or are intimidated by tackling projects in your home especially ones that involve texture or extensive prepwork? Let us save you time & money! Beautiful and lasting results for any paint job are achieved only by performing the correct & necessary prepwork. Often this step is skipped or rushed by most other companies. This is what sets ALL-TERIOR PAINTING apart as professional painters & and why we stand by our work & take pride in it.
We specialize in effectively tackling all the unique problems that arise with the varied surfaces/exteriors hence our name. We know which products will be the best remedy for each situation. We do not skimp on prime coats. Whether you need that dated wallpaper removed, your textured ceilings repaired or your entire Victorian home restored, or your in-ground pool painted, ALL-TERIOR PAINTING has the right tools & equipment to get the job done right the first time and every time in more than half the time.
Selling your home? A fresh coat of paint makes all the difference in staging your home to help get the best possible selling price. We also have trustworthy realtors to recommend.  Need to remove that old out-dated wallpaper to get your home sell-worthy?
Just bought a new home? Let us help you make your new home feel like it's yours by custom designing colors to match your furniture and décor. Remember – we can match any color you desire! And we will patiently work with you by offering free labor to put up samples until you are happy with your choice.
Looking for a facelift? Feeling tired of the current colors in your home? Changing colors is a powerful way to change the atmosphere in your home. Let us replace that dull feeling with a positive, bright atmosphere. We have carpenters to refer you to expand your project if needed. (Link to color visualizer)
Need curb appeal? Want curb appeal on a small budget? Want to make the exterior of your home something to be proud of but don't want to take on a full exterior project? Let us paint your front door to achieve a welcoming appearance and/or we can paint your shutters to make your colors pop. We can put up paint samples to help you choose a color you'll love!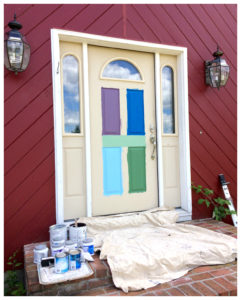 Got mold? Don't let mold overtake your basement. Let us protect your walls with drylock primer & chemical removal that is guaranteed to kill all mold. Water damage in bathrooms? Let us apply the right products to seal the walls before finish painting to combat moisture.
Got Water Damage? Let us help you resolve any water damage problems you have caused from ice dams to water leaks. We will work with the insurance company to alleviate any more hassles on your part.
Want to spruce up your basement? Do you want to improve the look of your unfinished basement without having to refinish it? We can spray your walls & ceilings in white. This simple inexpensive step can make your basement feel dramatically bigger & brighter.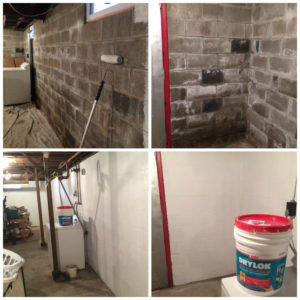 Peeling paint? ALL-TERIOR PAINTING can restore your period or Victorian home to its original beauty. We have the latest tools that enable us to strip down to bare woodwork much more quickly & effectively, in turn saving you money.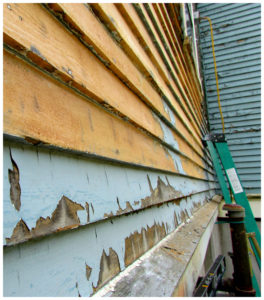 Can't choose whether to hire us versus do the project yourself? We guarantee that we can save you time & money by handling your project for you but we understand budgeting for home improvement can be hard. Therefore, if you choose to try the project yourself, we are happy to assist you with any advice on methods or products to use. Or we can work with you to adjust our work scope to doing only some of the work so you can meet your budget.
Residential Painting: Interior & Exterior: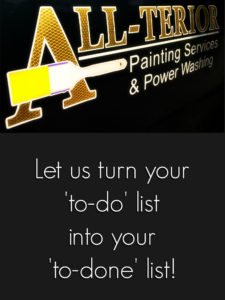 Ceilings, Great rooms, Front doors
Trim, Stucco, Metal
Siding, Aluminum, Vinyl
Wallpaper removal
Decks, Fences, Barns, Sheds, Garages
Victorian restoration
Multispec
Textured finishes
In-ground pools
Wood refinish & restoration
Window glazing
Basements
Water damage repair
Drywall repair/install