In a few words…
We are a family-owned, 5th generation painting contractor!
Often home or business owners are hesitant to hire a contractor because they don't know what to expect and they fear the intrusion of strangers on their property. Let us put you at ease! ALL-TERIOR PAINTING believes in developing strong relationships with our clients by communicating clearly and often, from the beginning to the end of the project.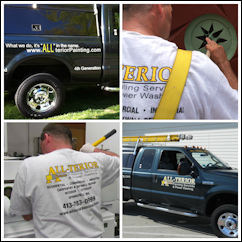 We address each customers unique issues and concerns and choose the correct remedy to produce the best results. This is the reason why we provide estimates (FREE!!) only after inspecting the jobsite in person. You can expect a professional estimate on letterhead usually within 48 hours, laying out in detail the work to be done, products to be used and a full cost breakdown, followed at the end of the project with a clear and concise invoice. Upon completion we will walk through in person with you to ensure we have met your expectations 100% before receiving final payment.
We guarantee almost all of our work 2 years labor of the completed work.
Schedule a FREE estimate today! What have you got to lose?! 413-596-2222